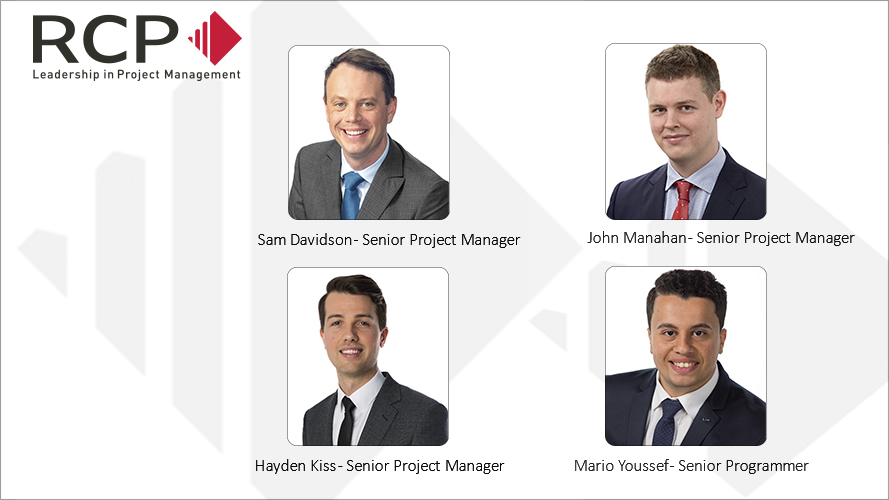 RCP is proud to recognise talent within the business through the announcement of a number of recent promotions.
In our Brisbane office, Sam Davidson has been promoted to senior project manager. He has over 15 years construction project management experience within Australia and England. Sam specialises in the delivery of complex projects in operational environments and is currently project managing a number of health developments including the Brisbane Private Hospital Central Sterile Services Department (CSSD) refurbishment; Wembley Road mental health facility expansion, Logan; and Darwin Private Hospital expansion. He is also a member of the RCP team providing project management services for the $2.1b Waterfront Brisbane development and he is the lead project manager for the Naldham House redevelopment.
Specialist programmer, Mario Youssef has been promoted to the position of senior programmer. Mario has contributed greatly to the success of the RCP programming team over the last 5 years and we know he will continue to play a significant role in the future growth and direction of RCP's programming division. Mario is currently providing specialist programming services on a number of high-profile projects across Australia including the $2.1b Waterfront Brisbane development, Gold Coast Airport redevelopment and 60 King William St development, Adelaide ($450m).
In our Sydney office, we would like to congratulate John Manahan on his promotion to senior project manager. John has over 10 years construction industry experience and was instrumental in the successful delivery of the recently completed $200m David Jones Elizabeth Street Store redevelopment in Sydney's CBD. John is currently project managing the InterContinental Hotel Sydney refurbishment and Parkside Wolli Creek apartments. John has proven to be a reliable and valuable asset to the Sydney team.
In Adelaide, Hayden Kiss has been promoted to senior project manager. Hayden has been with the RCP team for over 8 years, during which time he has provided project management services on a number of South Australia's most high-profile projects. Some notable projects include the $250m GPO Exchange commercial development, St Andrew's Hospital eastern clinical development, Penfolds Magill Estate development, Kangaroo Island Airport upgrade, Hutt St Centre redevelopment, Pulteney Grammar Middle School development and Hampstead GP Superclinic.
RCP takes pride in supporting career development and would like to congratulate the team on their well-deserved promotions for outstanding project work and the contributions each have made to the business. We look forward to them continuing to play a significant role in the ongoing growth and success of RCP Australia.