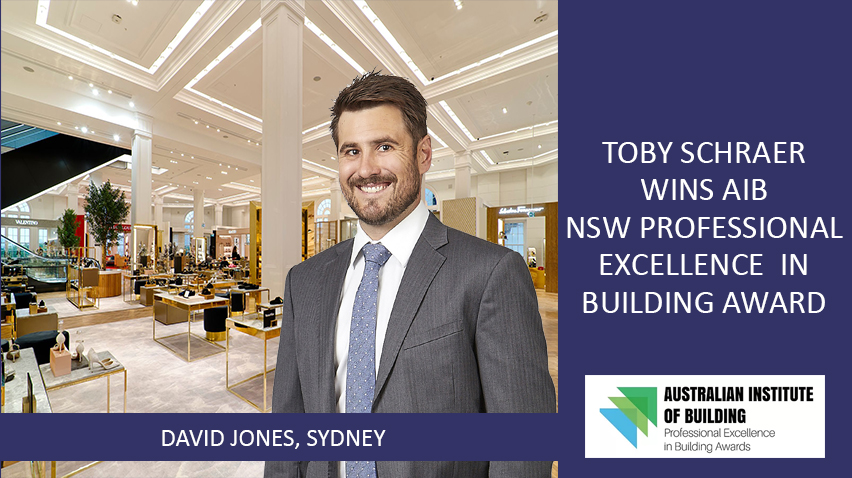 RCP's Toby Schraer has won the Australian Institute of Building NSW Professional Excellence Award in the project management category for his outstanding achievement on the David Jones redevelopment in Sydney's CBD.  Toby accepted the award, which was presented via a live Skype event held on Friday 17th September.  Click here to view a video extract of Toby's award win announcement and interview.
David Jones Limited appointed RCP to perform project management and specialist programming services for the landmark $200m redevelopment. The concept designed by international architect Benoy and local architect Crone (executive architect), and constructed by Mainbrace, included the integration of the David Jones Market Street store into the Elizabeth Street store, bringing the 90+ year old building up to current code whilst maintaining and celebrating its rich history and heritage.
A redevelopment of this scale was always going to have challenges.  As RCP project leader, Toby was instrumental in mitigating significant risks posed to David Jones on this project, particularly in relation to overcoming many latent conditions and structural issues and ensuring the store continued to trade at all times during the construction works.
Toby's ability to assemble and lead a highly skilled consultant and project delivery team played a key role in ensuring an outstanding project outcome, which has reset the benchmark for department stores in the Southern Hemisphere and has exceeded the expectations of all involved.
Congratulations to Toby and the project team for their outstanding achievement on this iconic development.