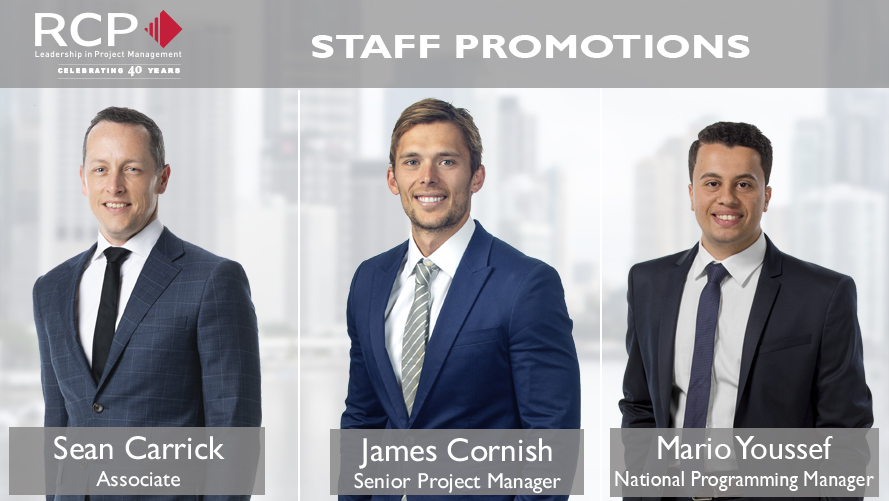 Managing Director Russell Martoo recently announced the promotion of Sean Carrick to Associate (RCP Adelaide), James Cornish to Senior Project Manager (RCP Gold Coast) and Mario Youssef to National Programming Manager (RCP Brisbane).
The promotions acknowledge the commitment of our staff to achieving outstanding results for our clients.
Sean is a member of the RCP Adelaide Team and has over 15 years' experience in the property and construction industries, across commercial, retail, education, and medical sectors.
Throughout his career Sean has worked on many largescale, complex developments. Currently, Sean is working on the CBUS commercial office development, located at 83 Pirie Street in Adelaide's CBD.
Sean's considerable knowledge of the property and construction industries and client focused approach have substantiated his reputation as a valued and respected advisor to RCP's clients.
James is a talented member of the RCP Gold Coast team and has been providing project management services for over nine years, delivering construction projects within the aviation, education, residential, retail, commercial and hotel sectors. His experience encompasses a diverse portfolio of major projects across all stages of the project life cycle.
James is currently working with the RCP project team on the southern terminal expansion portion of the Gold Coast Airport redevelopment, which is the largest development project in the airport's history.
James's project experience and ability to meticulously manage the delivery of major projects in live environments has proven him to be a highly proficient project manager and trusted advisor to clients.
Mario has a strong track-record working with owners, developers, financiers and contractors to facilitate an integrated project development and delivery, bringing about effective control and optimum project time performance across all project phases and procurement processes. His expertise includes the production of concept, design, development, tender and construction programmes; extension of time claims/assessments; progress status reports; tender evaluation reports and construction programme review reports.
He has significant experience working across a diverse range of sectors including public buildings, education, commercial, health & aged care, aviation, residential/housing and retail. Mario has provided/is currently providing specialist programming services on a number of high-profile projects including the $2.1b Waterfront Brisbane development; Gold Coast Airport redevelopment ($370m); GPO Exchange, Adelaide ($250m) and David Jones Elizabeth Street Store Redevelopment, Sydney ($200m).
As a valued member of the RCP team, Mario is well regarded for his enthusiasm and exceptional client service. His approachable nature and ability to challenge project timings, consider alternative strategies and review staging sequencing have earned him a significant number of repeat clients.
RCP takes pride in supporting the career development of its people. We would like to congratulate Sean, James and Mario on their well-deserved promotions for outstanding project work and the contributions each have made to the business.
We look forward to them continuing to play a significant role in the ongoing growth and success of RCP Australia.