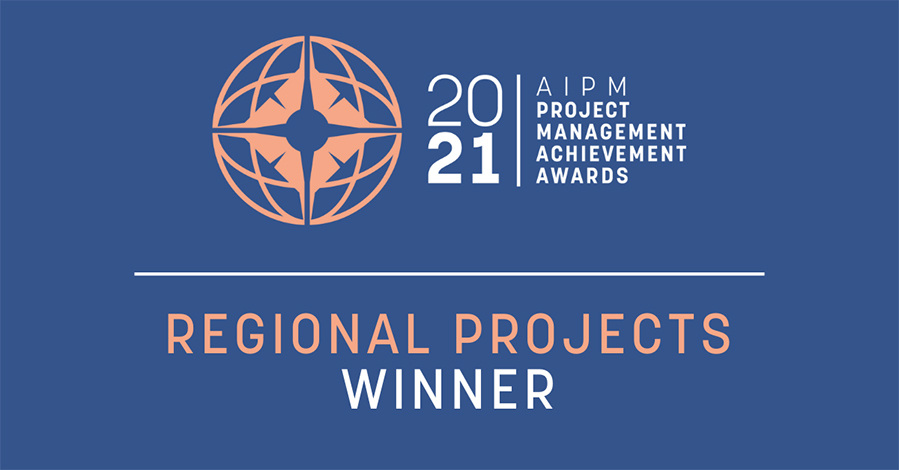 The RCP Townsville team is proud to have won the Australian Institute of Project Management (AIPM) National Project Management Achievement Award (PMAA) for the – Mater Private Hospital Townsville: Mercy Centre, via a ceremony held virtually on Monday 28 February 2022.
This national award follows RCP winning the AIPM Project Management Achievement (PMAA) Queensland Regional award for the project on 25 November 2021.
The successful completion of the $52m, stage 1 Pimlico campus redevelopment of the Mater Private Hospital was reached in November 2020.  The stage 1 redevelopment involved the construction of a 4-storey clinical services building, which now provides the community with a new X-ray facility, state-of-the-art digital operating theatres, day surgery unit and a new hospital entrance.
The RCP Townsville project team including North Queensland Manger Richard Foster, Orlando Pullin and Nathan Shepherd, provided project management and programming services from design development, client stakeholder engagement, consultant procurement, contractor tendering and tenant integration.
The project team successfully overcame several significant challenges throughout the project. The hospital was fully operational, RCP conducted a comprehensive risk assessment and implemented a staged construction methodology to reduce disruptions to the hospital and ensure safety was first precedence. Project objectives were achieved through strategic planning, good communication and strong leadership.
The RCP team managed the project through two unforeseeable circumstances, the first was the 2019 Townsville flood and a state of disaster declaration, and then the COVID-19 pandemic. RCP initiated a risk assessment processes and implemented response plans, and immediately enacting responsible measures, mitigating major delays and managing contractors.
Due to the incredible leadership of the project team, the project was successfully delivered within the total budget allocation. The facility now provides the residents in North Queensland with contemporary medical facilities and industry-leading treatment and care services.
Congratulations to the project team on this fantastic achievement!