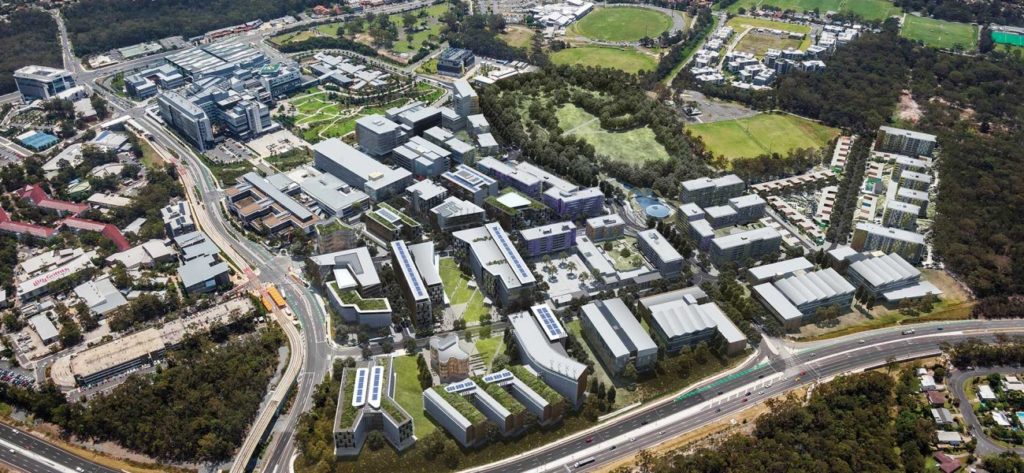 Client
Office of the Coordinator General (DEEDI)
Queensland Health
Gold Coast City Council
Department of Transport and Main Roads
Griffith University
Features
Precinct Master Plan for an area of 200ha.
Projects included in the Precinct include:
Gold Coast University Hospital $1.6b
Gold Coast Light Rail $400m
Major Road Upgrades $150m
Griffith University Expansion $70m
Parklands Redevelopment Project $50m
Planned as the site of the 2018 Commonwealth Games Athletics Village.

The Gold Coast Health and Knowledge Precinct is identified in the South East Queensland Regional Plan (2031) as a major residential and mixed use development node. Within the 200ha identified as the Precinct area are the Gold Coast campus for Griffith University (with plans to expand to 30,000 plus enrolments); the new $1.6b, 750 bed Gold Coast University Hospital, an acute tertiary teaching hospital; and the 27ha Parklands Showgrounds site that is planned for redevelopment with 300,000m2 GFA of residential, commercial, ancillary health and research and development uses. Together these Stakeholders plan to deliver the Health and Knowledge Precinct.
RCP were appointed jointly by the leading Stakeholders to provide the services of the Partnership Integration Manager. This comprised not only the administration of the governance secretariat but also the formulation and delivery of a strategic review of the Partnership arrangements. This resulted in the implementation of a new governance structure and arrangements and the documentation of a formal 'Memorandum of Understanding.' The Memorandum underpins and manages the relationship of the Partners during the Precinct Level and Organisational Level planning as well as the on-site delivery phase of the Precinct's development.