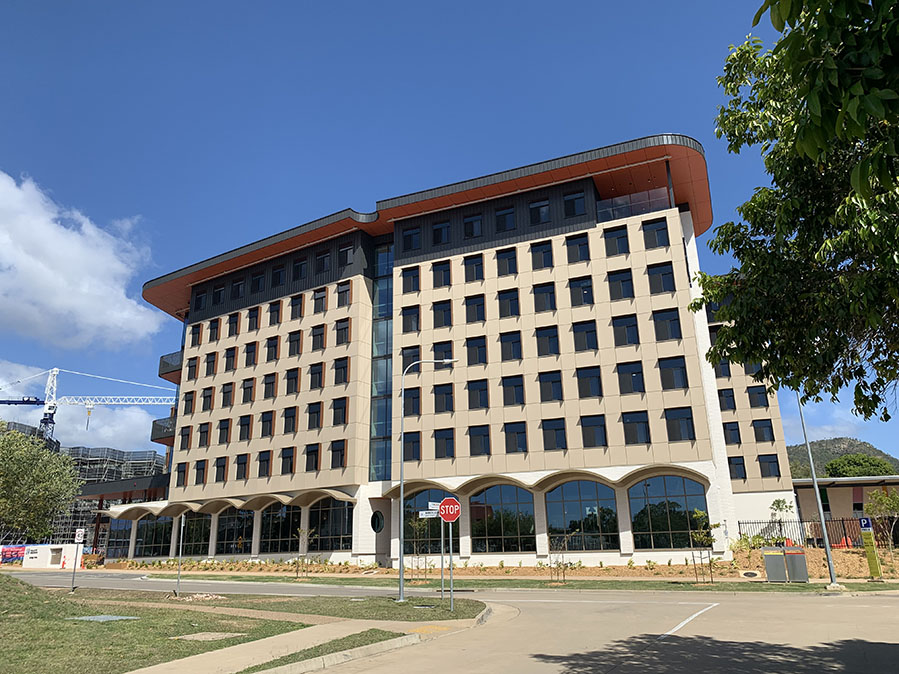 The $55 million James Cook University (JCU) Student Accommodation development is now providing university students with brand new on-campus accommodation. The RCP Townsville team, North Queensland Manager – Richard Foster, and Senior Project Manager – Lael Mayer, were proud to attend the official opening ceremony, accompanied by Nathan Shepherd, Manager Capital Works JCU, on 21 July 2022.
Designed by Nettletontribe architects, in association with local i4 Architecture, and constructed by Hutchinson Builders, the project involved the construction of a 7-level building with 403 bedrooms, a central self-catered kitchen, external dining bistro, games room, music room, bike storage, sky lounge, and other social common areas. The roof-top features a large lounge and external balcony viewing area, which can be utilised by students or for special functions.
RCP was engaged by JCU to provide project management and superintendent's representative services for the project, which commenced in November 2020.
The RCP team managed the project through two unforeseeable circumstances, the first was a delay due to inclement weather in January 2021 and the COVID-19 pandemic, which caused delays in materials arriving on-site. RCP initiated a risk assessment process and implemented response plans, and immediately enacted responsible measures, mitigating further major delays.
Project objectives were achieved through strategic planning, good communication, and strong leadership. Due to the genuine collaboration of the whole project team, including Richard Foster and Nathan Shepherd, the development was successfully delivered within the total budget allocation.
The new accommodation provides contemporary, affordable purpose-built accommodation that encourages community living and contributes to the university's high-quality student experience.