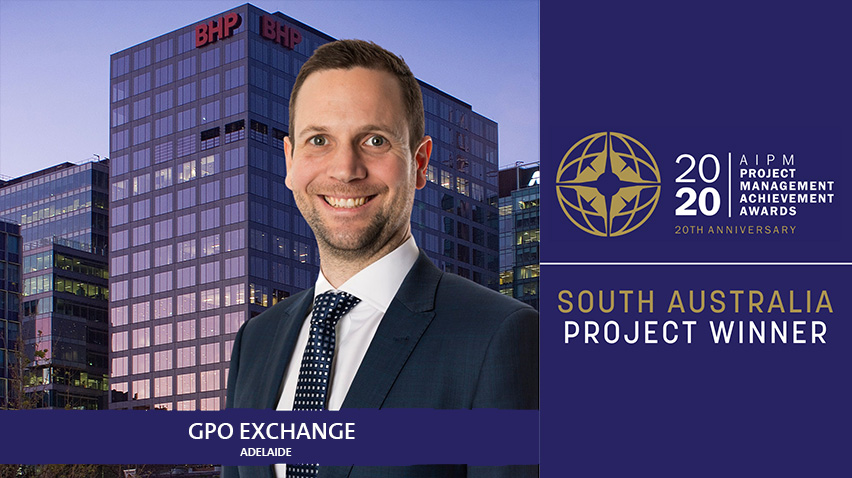 The RCP Adelaide team is delighted to announce it has been named as the winner of the award for outstanding achievement on the GPO Exchange development in Adelaide. Project leader, Tom Dalrymple won the construction/engineering project category for the AIPM South Australian 2020 Project Management Achievement Award, presented via a live virtual event on 25 November.
In its 20th year, the PMAAs exist to recognise, honour and promote outstanding achievement in program and project delivery. With a revised submission criteria and new award categories, last year AIPM received one of the highest number of entrants since the inception of the awards in 2000.
Elizabeth Foley, CEO of AIPM, said "the calibre of entrants in 2020 was truly exceptional. I would like to recognise and congratulate all of the winners of the awards and the hard work of the professionals who drove these projects forward and delivered them to such a high standard."
Charter Hall appointed RCP to perform project management, superintendent and specialist programming services for the landmark $250m GPO Exchange development. As RCP project leader, Tom Dalrymple oversaw the development from concept design to completion. Designed by Hassell (lead architect) and Fitzpatrick+Partners, and constructed by Built, Tom ensured all project team members goals were aligned and that the team maintained a collaborative focus on best project outcomes.
This award substantiates Tom's success in guiding the project team to deliver, on time and under budget, a high tech, world-class commercial building that honours the iconic heritage nature of the site.
This award follows three consecutive awards for RCP in 2020, including the AIB South Australian and National Professional Excellence in Building Awards for the GPO Exchange development and the AIB Queensland Professional Excellence in Building Award for Atlas Apartments Stages 1 & 2 in Brisbane.
These awards demonstrate RCP's strength in project management services and our ability to guide clients to successfully deliver complex projects across the country.
Congratulations to the RCP team, Tom Dalrymple, Richard Little, Hayden Kiss, Mario Youssef and the GPO Exchange project team for their outstanding achievement on this landmark development.
Click here for further details of the GPO Exchange development.