On Thursday 6 July, RCP welcomed ANZ's Head of Australian Economics Adam Boyton, Katie Stevenson NSW Executive Director Property Council of Australia, and a group of senior Sydney property leaders to a boardroom lunch, hosted by RCP Directors, Mark Dibben, and James Goodson.
The lunch examined the results of the ANZ/Property Council Survey for the June 2023 quarter and the current challenges facing the property industry.
RCP Director, Mark Dibben commented, "The latest national survey of 744 property professionals, revealed housing supply and affordability was still the prominent continuing and increasing concern, with 48 per cent selecting it as the most critical issue."
"With housing affordability and availability an ongoing challenge, the residential sector, and particularly Build to Rent, is a hot topic for Australia right now. RCP is currently working with developers on some early pilot projects looking at ways to streamline the delivery process, identifying potential constraints, risks and opportunities for this model that is relatively new to the Australian market," said Mark.
Selected Results Summary
The first survey of Property Council members for the year revealed industry confidence remained steady, with the Confidence Index at 114 index points. A score of 100 in the Confidence Index is considered neutral.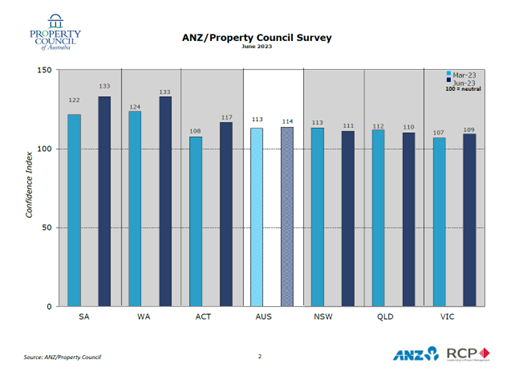 Future staffing expectations remained positive across the country but fell in all markets except South Australia, Western Australia and the ACT.
Forward work expectations remained positive in every state and territory over the quarter, with an average of 30.8 across the country. A score of 0 is considered neutral.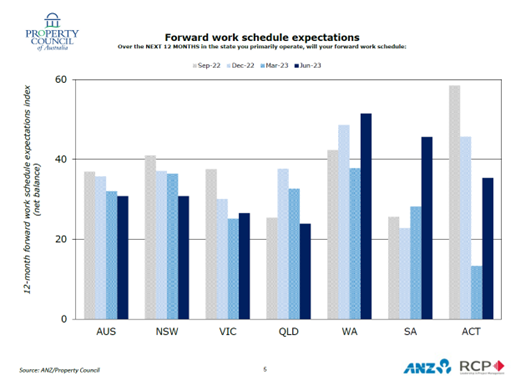 The construction activity expectations remained steady across most sectors, with a slight increase in the retirement and hotel sectors from the last quarter results.
Residential construction is still feeling the effects of the lack of resources due to high demand and interest rate rises.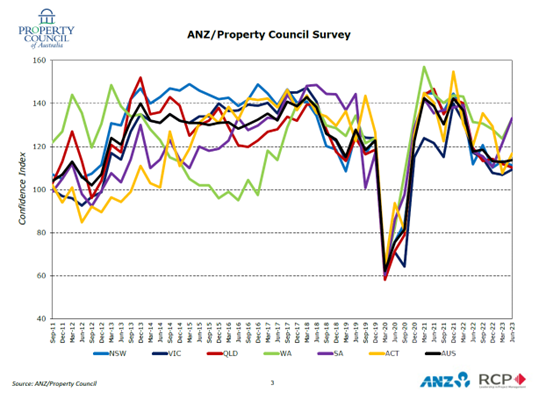 The ANZ/Property Council Survey gauges the property industry's:
sentiments about the outlook for Australia's national and state / territory economies
views on property asset class performance
employment intentions
expected workflows
critical industry drivers.
The most recent survey canvassed the views of 744 respondents including, owners, developers, agents, managers, consultants and government across all major industry sectors and regions.
To view full details of the latest ANZ/PCA survey results, please visit the Property Council of Australia here.