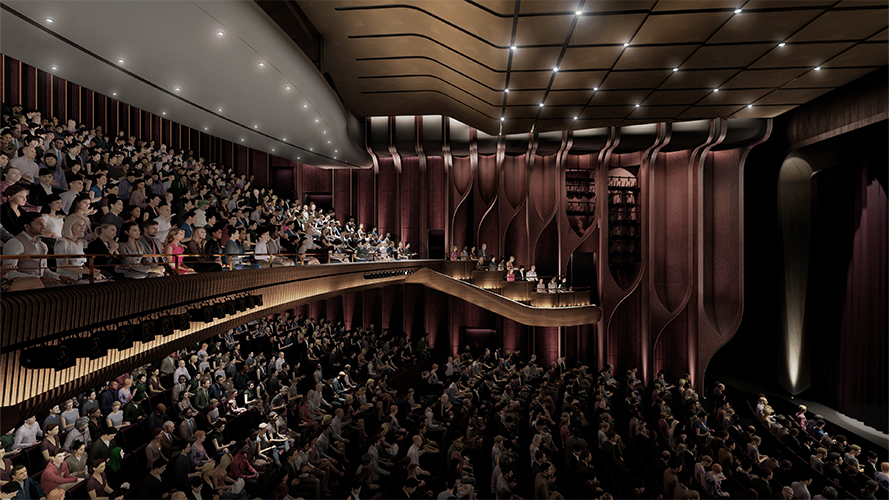 RCP is pleased to share that its client Foundation Theatres has received approval of its development application to redevelop the existing 4000 seat Event Centre at The Star Sydney into a new two-theatre complex.
The approval will see the delivery of a new 'Broadway style' theatre (1,550 patrons), and a new 'Live' theatre (1,000 patrons). It will include the construction of a new 10 metre 'fly tower', new dressing room facilities, plant and equipment areas, and internal alterations to foyer and pre-event spaces
Foundation Theatres' vision is to complete the Sydney theatre landscape by providing a Broadway Theatre and a Live Room. The new complex will feature:
Broadway-style theatre on two levels capable of hosting large scale musicals, dance, drama, concerts, ballet and opera with a full fly system and orchestra pit (New Theatre);
Comedy and live entertainment theatre capable of hosting comedy, live music, cabaret, plays and small-scale productions (Live Room).
RCP is partnering with Foundation Theatres to deliver the project, providing project management and programming services.
RCP Director, Mark Dibben said, "Our team is excited to reach this milestone with Foundation Theatres. Having been appointed to assist with obtaining planning approval we are looking forward to partnering with Foundation Theatres, Altis Architecture, Ethos Urban and the broader team to deliver this challenging project."
The New Theatre will have a stage and facilities that are capable of hosting leading complex productions and feature a more intimate 1550 seat configuration with great accessibility and sightlines.
The Live Room will provide a new performance space for live music, comedy, cabaret and smaller-scale plays and other theatrical productions. The auditorium will have the flexibility to accommodate the developing trend toward immersive and interactive theatrical works. Seating up to 1000 patrons, the Live Room will be a welcome addition to Sydney's performing arts scene.
The new complex will provide first-class facilities for theatre-makers and theatre-goers in Sydney, and is estimated to be completed in late 2025.